New version of PHPfr in the works
30 March 2008 · Estimated reading time: 2 minutes
There've been a couple of false starts over the 2 years that I've been developing this Dashboard widget, so excuse me if I didn't want to say anything until I knew a release was close, but PHP Function Reference 1.0 is nearly done. w00+!
It's hard to believe it's been over 2 years since I first released PHPfr to the public. I didn't even realize it had been that long until I was looking at the version history recently. To say it has been difficult to maintain momentum on this project is an understatement.
About a year ago, I open sourced it, hoping that would spark some progress. Three talented people joined the project at that time, but we got busy at work and I wasn't able to do much with it.
Honestly, I don't know what's come over me in the last week. I really am too busy to be spending this kind of time on a free widget. I guess this truly is a labour of love.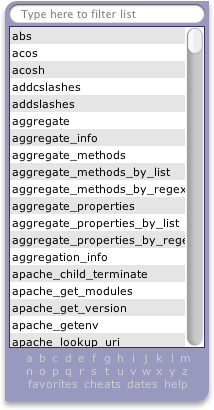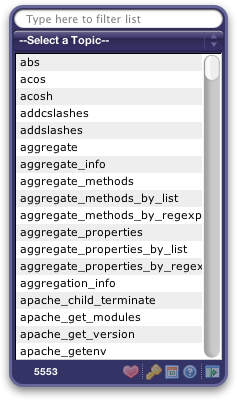 In human development circles, they talk about things happening spontaneously when there is a "readiness" for them. I think that's a part of why this is coming together now. I'm twice the programmer I was a year ago, having worked on more complex projects over that time than I ever had before. Features that would have been a hard slog a year ago have come together in a matter of hours this time around.
Whatever the reason, PHPfr 1.0 is finally closing in on release candidate status. To their credit, Kelly Patrick Robinson and Barbara Napholtz, 2 of the 3 people who came on board a year ago, are back on the bandwagon (a big help, thanks, you two!). Also, we have our fist localization (German) thanks to Tice Klussmeier. Good stuff!
So, watch this space in the next couple of weeks for the all new, completely redesigned, better than ever, PHP Function Reference widget!
Features in the next release:
Offline access to full PHP.net documentation
Extensive cheat sheet
Interactive date formatter
Live filtering of function list
Selection of functions by topic – new!
Favourites list
Resizable display size – new!
Big/small font size toggle – new!
1-click documentation installs – new!